"Anti-Aging and Regeneration for your skin."
These extraordinary facial rollers are made with genuine material - jade and rose quartz. Of course, they`ll improve your skin elasticity, while soften and toning it, but they can even do much more. With the help of traditional medicine, you can reduce puffiness and dark circles under your eyes. Even fine lines and wrinkles can be counteracted while using the roller. The best part of it? The roller is able to stimulate collagen when you direct it through certain acupressure points. As you see it´s a great opportunity to improve your skin in any way. And of course, the jade and rose quartz roller are suitable for any sex and age.
What are the benefits of a jade or rose quartz roller?
🌸Reduce puffiness and dark circles under the eyes

🌸Promotes lymphatic-drainage and helps eliminate toxins

🌸Helps relieve facial tension and counteract fine lines and wrinkles

🌸Stimulates collagen when directed through acupressure points

🌸Improves skin elasticity, softens and tones the skin

🌸Tightens skin, improves elasticity, minimizes pores and spots

How do I use the  jade and rose quartz roller?
At first, you should clean your face with water or some soft cleansing lotion.
The Jade and Rose Quartz roller can now be used on the face, neck, or arms. Roll it from top to bottom over the different parts of your body. Try to make large and flowing movements. You can use the smaller roller, especially for the eye area. The larger side of the roller can be used for all other areas. Roll & Enjoy! 
You can also use a care cream or lotion before the application. With the face roller, you can improve the absorption of firming lotion, skin milk, essence, cream, eye gel, eye mask, face mask, or essential oil.
What is the difference between the green and pink jade roller?
GREEN JADE

The reason why Jade isn't that popular in our country is that it has its roots in Asia. There its also known as "sky stone" and was only worn by emperors in ancient China. This stone is said to have a particular healing effect on the kidneys. Jade has a balancing and calming outcome on the skin - ideal for a relaxed spa evening after a stressful day.
ROSE QUARTZ
The beautiful rose quartz is also known as a love stone. It's said to increase the receptivity for love - and of course, we already fell in love with it! Furthermore, rose quartz soothes stressed skin and makes it smooth again after a long day or night.
How can you use the jade and rose quartz roller?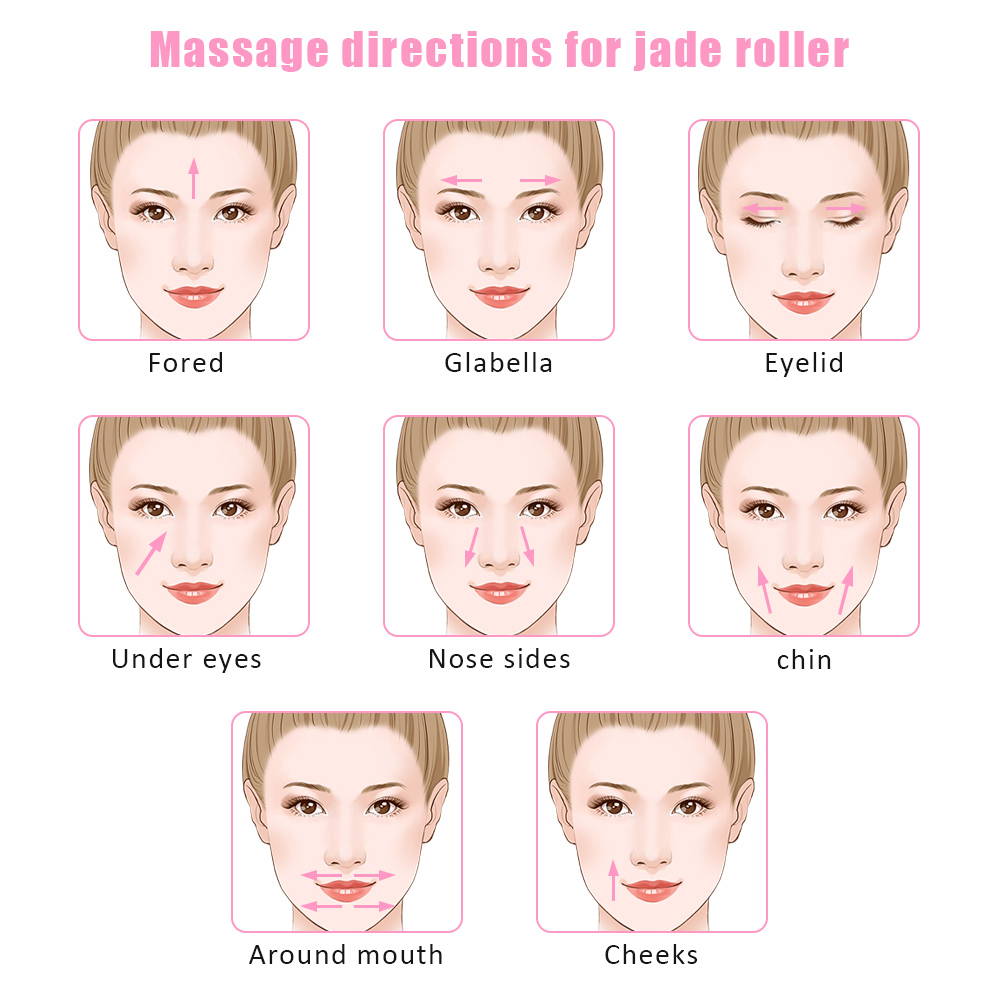 Massage roller routine
1. First, you can cover your clavicle area, using an up-and-down motion.
2. Next, you can do a sweeping up-and-down roll on your neck.
3. After this comes the jawline. Here, you can switch to a back-and-forth roll that starts at the center of your chin and goes toward your ear, repeating this up to your cheekbone. 
4. On your forehead, you repeat the vertical roll, starting from the middle of your face and moving outward toward your temples.
5. Now you can flip the tool over to use the smaller attachment under your eyes - in a horizontal motion toward your temple. 
6. To finish the routine, you can use the smaller roller once more down your nose, moving it in a horizontal motion.